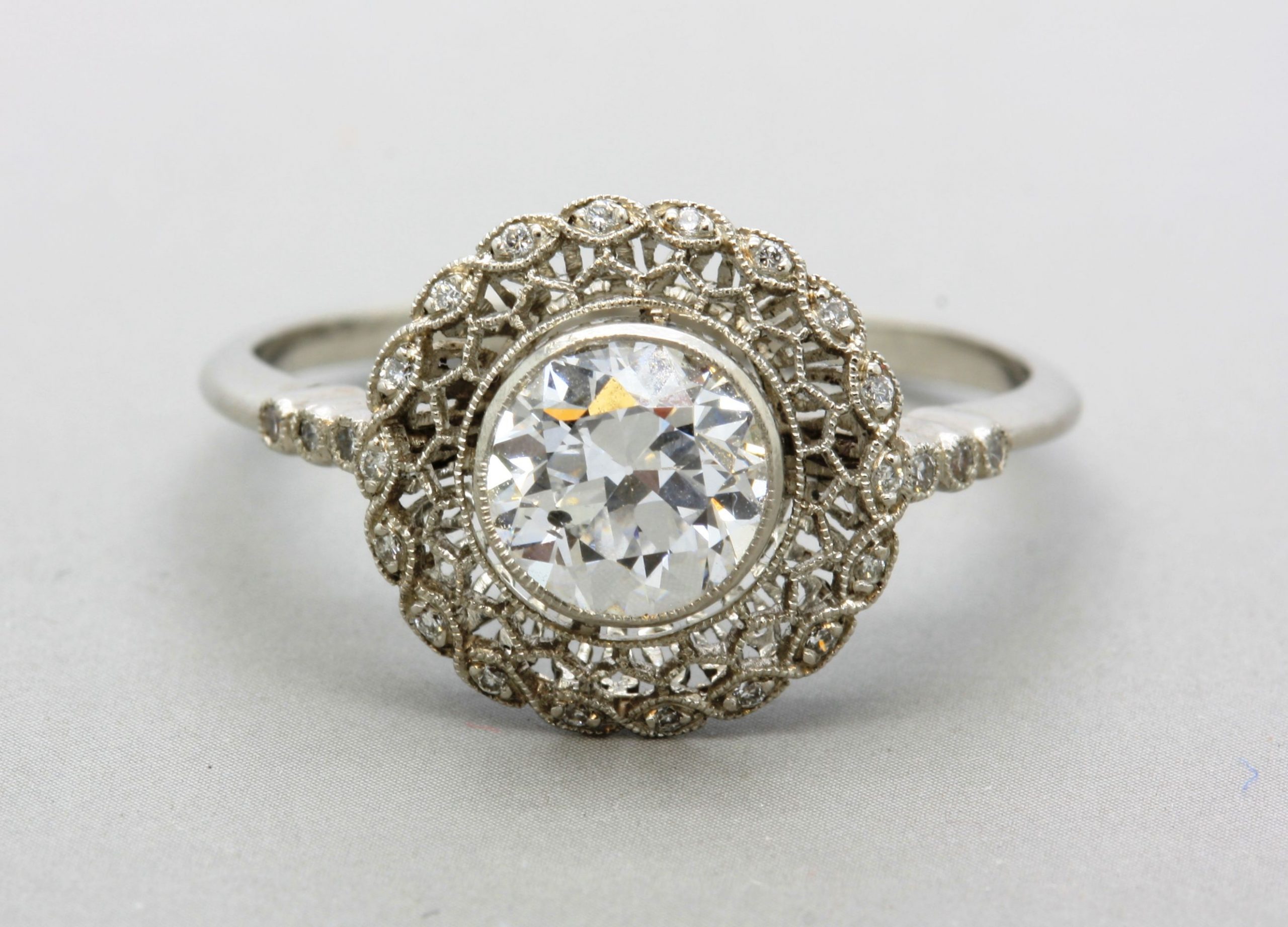 The History of Engagement Rings
None of us really know when the first engagement ring was given or what the meaning behind it was, but we do know the history of their designs, cuts, colors, and everything in between. The first historically recorded engagement ring was given by Archduke Maximilian of Austria to his betrothed, Mary of Burgundy. Before that, the ancient Egyptians, who thought circles were a symbol of eternity, exchanged rings made of braided reeds once they wed, and the ancient Roman grooms gave their brides rings in lieu of riches. Back then, rings were more so about ownership rather than symbolism of love, and the only way we know they wore them is because we found them buried with them on.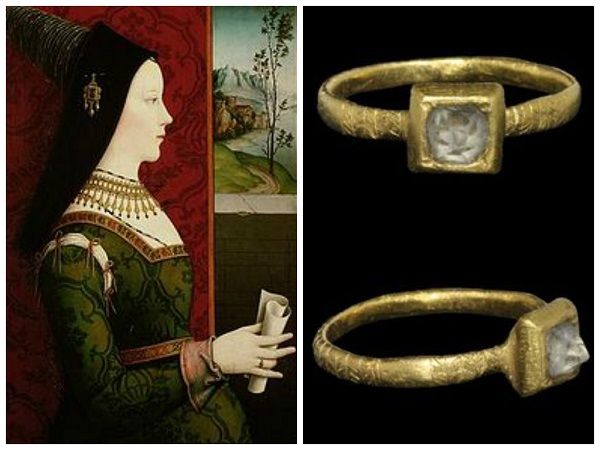 Mary of Burgundy
The diamond given to Mary of Burgundy by Archduke Maximilian gained publicity with European nobility and the trend spread. Fast forward a couple hundred years to when diamond mining and production began and quickly multiplied – within a decade of opening in 1880, the DeBeers Mining Company was producing 90% of the world's diamonds. Today, there's a need for many more mines as more than 80% of brides in the United States say they received a diamond engagement ring as a result of a proposal. So, we ask…
Question: Have engagement rings always been the same?
Answer: Absolutely not!
Like it was mentioned earlier, Ancient Egyptians have been found buried with strands of metal wrapped around the third finger on their left hand. The Archduke Maximilian gave Mary of Burgundy a gold ring with the letter 'M' in tiny diamonds. The lovers in Shakespeare's plays exchanged bands that had been engraved on the inside. Victorian rings were whimsical and romantic. As history continues, engagement rings take new shape. Let's take a little blast through the past –
Enter: the early 20th century. When the 1900s began (The Edwardian Era), lace detailing became the most popular accent. Elegant filigree and very thin metal was used to make symbolic designs on rings like hearts, hands, and motifs of unity. The Industrial Revolution brought a growing middle class and a higher demand for fine jewelry, and almost everything was made in platinum.
When the Art Deco era came around in the 20s and 30s, colored gemstones were set in platinum and white gold rings that were less feminine and more symmetrical to match the era's aesthetic.
When World War II hit and platinum was scarce, gold became the metal of choice. Synthetic gemstones, like rubies and sapphires, became popular because of their budget-consciousness. And when Audrey Hepburn's husband, Mel Ferrer, gave her multiple rings in different colored metals so she could switch them out to match her outfits, the "stacking bands" trend that is widely popular today began.
Elizabeth Taylor became the go-to for all jewelry trends when she was given a 33-carat Asscher-cut by Richard Burton in 1963. First Lady Jackie Kennedy made emerald stones more popular with her diamond and emerald engagement ring from President JFK. What is known as "the princess-cut" made its appearance in the 70s and blew up immediately. Traditional rings became even less important and engagement rings embraced literally every style possible.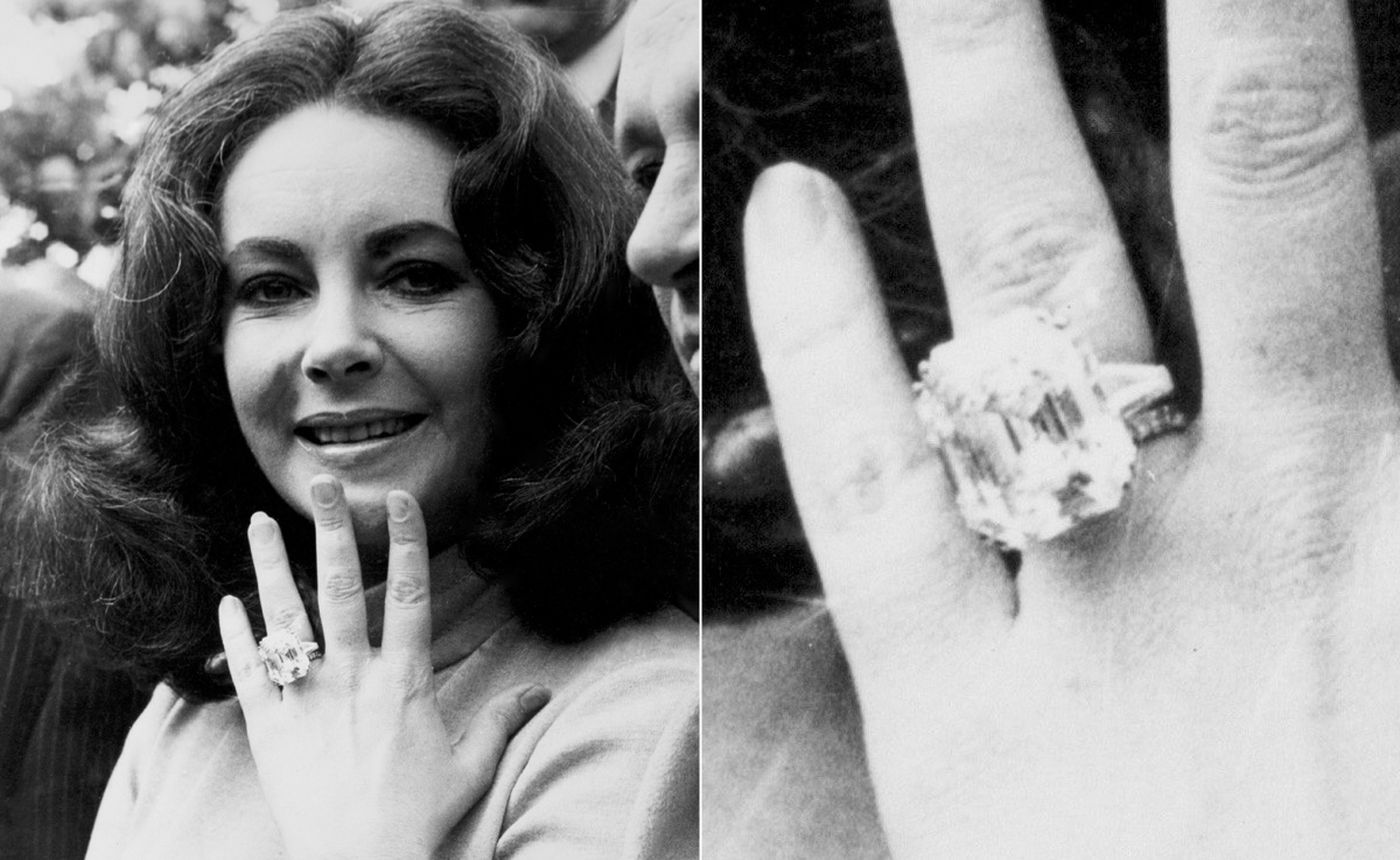 Elizabeth Taylor
Present-day engagement rings seem to focus more so on the center stone itself rather than the underlying details. Solitaires, triple-stones, and halo-style rings that have more prominent center stones gained popularity and never lost it. There truthfully have never been more options than what there are right now. Now that the internet is so accessible, buying and selling engagement rings has never been easier and the possibilities when creating one are seemingly endless. Rose, yellow, and white gold are more popular than platinum, and diamonds seem to be the most sought-after center stone. With that being said, there are engagement rings with sapphires, emeralds, and rubies everywhere, not to mention the rings that have morganites, moissanites, lab-created stones, pearls, champagne diamonds, yellow diamonds, black diamonds, and on and on and on.
There's a higher demand for estate diamonds than ever before, and we see why! The look of a hand-cut, 2-carat old mine cut is mindblowing, and a .74 carat round diamond in a yellow gold setting is just classic. Asymmetrical and antique-inspired rings are making a comeback now that every young couple wants something unique and unpopular to the majority of society. The thought of wearing a certain ring until your last breath is weird, and we often times want to make sure we absolutely love it before we say "I do".
Whether you're shooting for an engagement ring with Elizabeth Taylor's Asscher-cut or Katy Perry's natural ruby center stone and a halo of diamonds, you're sure to have two things: a ring that symbolizes love and a love that symbolizes forever.
Despite the shape, size, clarity and whatever else, here's to having a 'sparkler' on the third finger of your left hand!